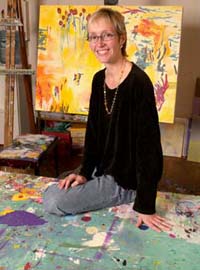 Donna Estabrooks' bright paintings come in all shapes and sizes; her work includes large murals and tiny postcards, and covers everything from animals and playful portraits to spiritual revelations and prayers.
After graduating from UMass with a degree in art, Estabrooks worked as an artist in residence for 8 years before her life drastically changed. She found herself abruptly without a home or job and made the choice to continue working as an artist. This is when she believes she truly found her artistic voice; leaving behind the strict rules of art that she learned at school, Estabrooks became more experimental with her work.
Estabrooks' thinks of each day as an opportunity to create joy. Her paintings reflect this with their bright colors  and cheerful themes. She calls them "painted prayers". Many viewers believe that they reflect the perfect joy of an artist's life, but they are actually hopes and dreams for how life could be.
Estabrooks also teaches others how to bring out their inner creativity. She calls this "facilitating the process", and paints her own work at her students' side. She encourages an attitude of freedom when approaching a painting, even asking students to do 15-minute paintings on newspaper!
Even commissioned pieces have a spontaneous quality for Estabrooks! She explained how she creates 3 paintings for a client—one is purely the client's request, one is half the client's request, and another is completely intuitive. Estabrooks is extremely prolific because she enjoys painting so much and never minds creating another piece! She has been told her work also brings changes to the buyers' lives; people have returned with stories of healing, renewed joy in  their lives or a new sense of hope. Her paintings are definitely playful for the eye  and warming to the heart.