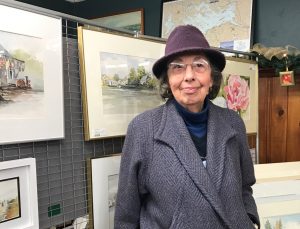 Saturday, December 10 from 5 to 8 p.m. Wolfeboro will be having a special holiday ART WALK. Several galleries in town will be open and present various activities and provide refreshments for this event.  Wolfeboro artist Madelyn Albee has been displaying at The Art Place for many years. She will be the featured artist at The Art Place.  Her artwork reflects the two different locations that she lives in and loves.  Spending her winters in her native Lunenburg, and summers in Wolfeboro, Madelyn offers spontaneous paintings that are varied in subject and medium.
All are welcome to come meet Madelyn at The Art Place on Saturday, December 10th  from 5 to 8pm.  Also on display at The Art Place for the December 10th ART WALK will be a sampling of sculptural work in forged steel by  Michael Connolly and hand made jewelry with semi precious stones by Mary Connolly.
Local vocalist and performer Laurie Jones will be making the rounds at The Art Place, The Kalled Gallery and Sandy Martin Gallery with Christmas carols and music to add to all the Holiday merriment!
The Governor Wentworth Arts Council is sponsoring the Wolfeboro's ART WALK.  This self-guided FREE tour of galleries and arts locations are within the downtown corridor of Main Street (Rt.28).
Pick up a FREE informational Rack Card at The Art Place or the Wolfeboro Chamber of Commerce, which lists contact information and a map of all the participants. This will be the last ART WALK for this year, so come help us celebrate the Holidays!