On Saturday, August 4, The Art Place in downtown Wolfeboro will hold its semi-annual Peter Ferber Gallery Show featuring new original paintings by local well-known artist Peter Ferber. The unveiling and artist's reception will commence at 9:30 a.m. All are welcome to attend and meet the artist.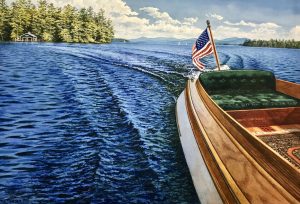 Peter Ferber has been showing at The Art Place gallery in downtown Wolfeboro since the early 1990's. "It's not just about the familiar visual scene when looking at Peter Ferber's paintings, it's about the emotions stirred and the many feelings one gets from his beautiful artwork, says Barbara Gibbs, owner of The Art Place." Peter Ferber describes it best:
"Once again I feel so fortunate to share this new collection of paintings that come out of a deep love for this area that so many people feel.  Nothing makes me happier than making that connection–hearing the wonderful memories and feelings evoked in those that come to see the work.  In many ways there's nothing new in this 'new' collection.  There will be some vintage boats–hundred-year-old launches and a Lyman outboard from the 1950's.  Wonderful, simple cottages–a few on islands, and one done in the cut paper medium; boathouses here and there, including a great, rustic Adirondack style one; plenty of pine trees, mountains, and at least one loon!  That being said, I hope it never feels like I'm repeating myself!  In order to have integrity, and that spark, I always rely on some new element in the concept to inspire me.  This often comes in the form of a different color pallet or an interesting lighting effect I've observed. And I'm always trying to bring out the idyllic, romantic or timeless aspect of a subject–to convey more than a literal portrayal, and tap into what the subject means to people.  This approach developed in college, where we painted local scenes around town, and were taught accentuate and augment certain things about the subject to give it more weight and importance and make the painting more dramatic and interesting.  I still do this today, though in more subtle ways, since there's not usually the need to 'improve' on the beauty and interest of the subjects I find around here!"
Of course lakes are a constant throughout, and this time include Wentworth, Newfound and Sunapee, in addition to Winnipesaukee–though they will feel familiar no matter what your particular favorite may be.
The paintings will include work in watercolor, acrylic, oil, and the one cut paper piece I mentioned.
In contrast to the aspects of life that seem to be constantly changing and upgrading, I love the fact that the things I'm depicting seem so timeless and solid.  And it's always about more than just beautiful images of loved scenes.  The real connection is with deep and treasured feelings of family, in having roots in something lasting, in experiences that taught us important things, in a sense of comfort, caring, and being valued.  It's the kind of "place" where we all want to spend time."
Peter has exhibited in over 50 shows in New England and the Midwest. More than 100 reproductions of his work have been made, including over 75 limited edition prints.
Peter Ferber's Gallery Show at The Art Place will be on display through August 18th or as long as paintings are available. The Art Place is the exclusive gallery for Peter Ferber's original artwork, and produces most of his limited edition prints. The Art Place is located at 9 North Main Street, downtown Wolfeboro, NH and is open year round. Our Summer hours are Tuesday through Saturday, 9:30 to 5. Sunday 11 -3. For more information, please call 603 569- 6159. or toll free 866 569-6159.