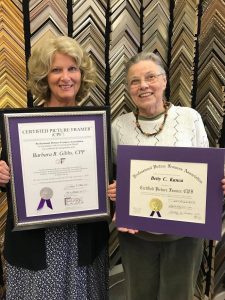 I'd like to introduce you to Betty Kanca, or "steady Betty" as we call her at The Art Place. Betty works behind the scenes in our custom framing department, and she knows all the ins and outs of custom framing, including advanced conservation framing, and needlework framing. Betty always seems to have a trick up her sleeve to help with particularly challenging projects. She is such an important member of our team.
Betty has worked for over 20 years at The Art Place, and received her Certification from Professional Picture Framers Association in 1992. But even before coming to  New Hampshire and working at The Art Place, Betty was a skilled framer in Connecticut. To become a Certified Picture Framer, you have to be proficient in all types of framing, have an extensive education of conservation framing and materials, and take a rigorous test. Betty has always kept her certification up-to-date, which means she continues to review new framing techniques and guidelines.
At The Art Place, Betty's favorite place is at the mat cutter. She spends hours at a time standing at this huge piece of equipment, and creating precisely cut mats for a variety of artwork. From single, double, and triple stacked mats, to reverse bevel and multiple openings, Betty tackles each project she is given by making exact measurements and carefully checking each mat for blemishes and scratches so that every customer comes away with a product they love.
Like most of the staff at The Art Place, Betty has a strong creative side. She paints with watercolor in her spare time, and is an active member of the Governor Wentworth Arts Council. You may have noticed some of her artwork during their silent auction at The Art Place in May.
With her extensive knowledge of custom framing, and hard-working attitude, we are so lucky to have Betty on The Art Place team!